Ceramic Tile Inlay Outdoor
Furniture Sets and Flower Pots -
Beautifully Hand-Crafted by Concrete Crafters
Please come on in and relax, take your shoes off and sit for a while. Obviously you are here 'cause you were looking for outdoor furniture, right? If you are, then you've come to the right place. If you are not, then you are still welcomed to our studio. At Concrete Crafters we believe that your patio should be one of the most enjoyable places in your home and therefore the outdoor furniture you choose to decorate it with should last forever.
Meet the Outdoor Furniture Artists
Hi, we're Larry and Kim Livingston and welcome to our website dedicated to our small business, Concrete Crafters. We are located in sunny, beautiful Tucson, Arizona. We are committed to providing you with honest, personalized service in custom designing and building exquisite outdoor furniture.
We started creating our artwork in 1988. With over twenty years of experience hand-crafting outdoor furniture, the quality of our product is second to none. We use our experience and your creativity to create a personalized patio. Not only do we create patio furniture, but we also create matching accessories such as birdbaths and flower pots.
Kim and I believe in a personalized touch that has slowly vanished from our society. We will personally create and construct your outdoor furniture. We believe that when you want something done right you have to do it yourself. That is why we will also be the ones delivering your furniture. We stand behind our product to uphold customer satisfaction 100%. From order to delivery Kim and I will be working directly with you through every step of the way.
We do accept Credit Cards at this time. All Sets are reasonably priced and we offer special discounts for larger orders. Free delivery and set-up in the Phoenix, Tucson and surrounding area. Give us a call 520-749-4046 or email us at larryandkim@ccrafters.com with any questions you may have. We realize that time is money, and for the time you took to shop with us, we thank you; Tell your friends and relatives about us too! Thank you for visiting our home page, we really do appreciate it.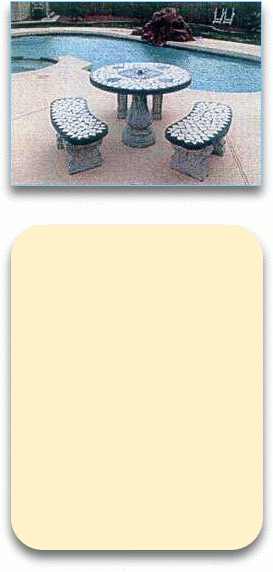 Product Categories